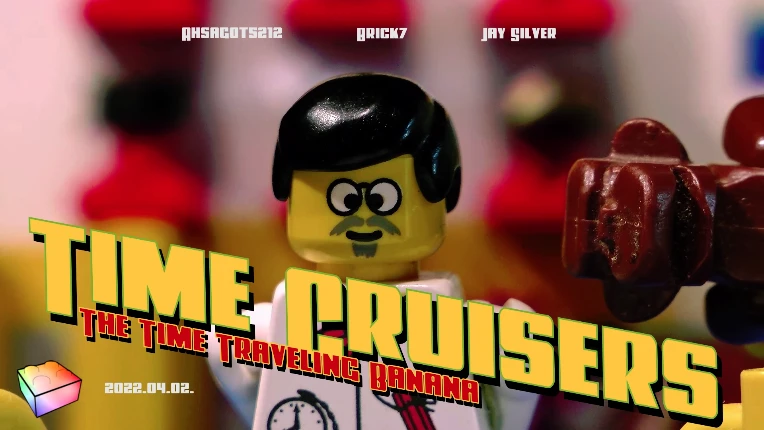 I started writing the music for this film very early in the production. I really enjoy creating the soundtrack for my own brickfilms, and this was probably the most fun part of making this film.
I wrote the first version of the main theme some time in 2016, and I created an instrumental demo version of it in 2017. Instrumental, because I actually wrote lyrics for the song, because back then I imagined a 2D animated intro for the film.
This was that first instrumental demo:
And here are the lyrics:
Looking back in time
everything seemed to be fine.
'Cos there are Time Cruisers
But there are Time Twisters
who mess with time
every chance they get.
It's a cruise in time!
It's a cruise in time!
So it's cruisin' time.
This first demo was very half-baked and amateur, but later in 2017 I re-arranged it and it became a more refined version, part of which was used in the Winter Sock Productions intro:
This version had a lot of electronics too, but I added the sounds of ticking clocks and reversed audio, which served as a sort of "style template" for the entire music production, as you can hear it in the finished film. I haven't released the full version of this yet, because I'm planning on using it in later chapters of Time Cruisers: Origins.
The next step, after composing the Time Cruisers theme, was composing a theme for the villains, the Time Twisters, who're represented by Tony Twister in this first chapter. His theme stems from the main theme, but it's in a different key and rhythm, and it has some dark and sinister instruments. I composed this theme back in 2017 as well, and it made its debut in 2020's Let's Start from the Beginning.
For the final video I composed some new music for Tony Twister (still based on this original, 2017 theme) to fit the mood of the scene better and to have a cohesive soundtrack.
For the final music I composed 4 brand new tracks, all of them based on the previously created themes. I used many synthesizer sounds and electric guitars, because I feel that this electronic style suits LEGO in general and the quirkiness of the Time Cruisers theme really well. I also used some of Spitfire Audio's great orchestral samples to make the music warmer and some delay effects, ticking watches, bells and cuckoo clocks to integrate the time travel theme into the soundtrack as well.
And here you can listen to every track of the finished soundtrack album of Chapter 1: